Top

Specialists in:
Manfacturing
On site installation
Refurbish and Overhaul.
Croboride Engineering Ltd also specialise in refurbishing machinery.
We strip back, inspect, replace worn parts and rebuild machinery back to its working order. With a crane which has the lifting capacity of 16 tonnes, this enables us rebuild large items such as quarry and Power station machinery. Take a look at the photos below of some of the refurbishments (project) we have undertaken in the past.
How to find us:
Quick Links
Home | Services | Gallery | Contact
Copyright © 2016 Croboride Engineering Ltd
All Rights Reserved

Registered No. 2319062 England
VAT Reg No. GB 507 823349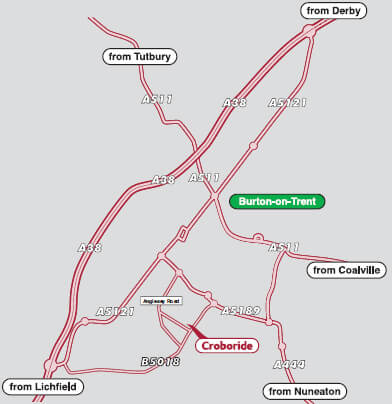 Contact Us
Registered Office and Works
Rembrandt Works
188 All Saints Road,
Burton upon Trent,
Staffordshire,
United Kingdom
DE14 3LS
Tel: (01283) 511188
Fax: (01283) 530845
Email: info@croboride.co.uk