Top

Specialists in:
Manfacturing
On site installation
CNC Machining
We provide high precision CNC machining and milling, in a wide variety of sizes, tolerances and materials ( Metals and Plastics). Some of our machines include:
Haas ST40
Chuck size 15" (381mm)
Max cutting dia 25.5" (648mm)
Max cutting length without workholding 44" (1118mm)
Std bar capcity 4.0" (102mm)
Haas ST30
Chuck size 10" (254mm)
Max cutting dia 21"(533mm)
Max cutting length without workholding 3.0mm (76mm)
TL2 Haas
16" (406mm) Max cutting length
3" Spindle (76.2mm)
11" Swing (279mm)
Bridgeport VMC 600
X axis 600mm
Y axis 410mm
Z axis 520mm
Bridgeport VMC 1000
X axis 1020mm
Y axis 510mm
Z axis 500mm
Huron
Universal Head Milling Machine
Capacity
40" x 59" x 12"
(1016mm x 1499mm x 305mm)
Croboride works in partnership with its customers to develop and produce the highest quality component and assemblies. WE pride ourselves on our quality and delivery on time.
How to find us:
Quick Links
Home | Services | Gallery | Contact
Copyright © 2016 Croboride Engineering Ltd
All Rights Reserved

Registered No. 2319062 England
VAT Reg No. GB 507 823349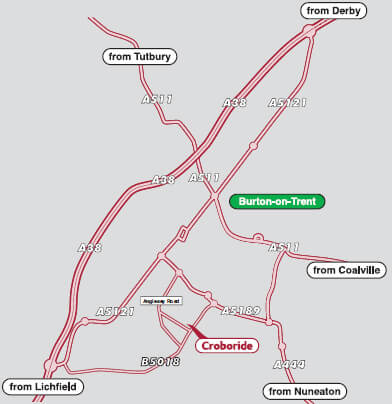 Contact Us
Registered Office and Works
Rembrandt Works
188 All Saints Road,
Burton upon Trent,
Staffordshire,
United Kingdom
DE14 3LS
Tel: (01283) 511188
Fax: (01283) 530845
Email: info@croboride.co.uk